The National Science Foundation (NSF) has added three years and $8.48 million to the grant supporting the NSF Engineering Research Center for Biorenewable Chemicals based at Iowa State University.
That brings NSF's total funding of the center (known as CBiRC, "See-burk") to the maximum allowed: 10 years and $35.26 million. NSF support of the center began in September 2008 and will end in August 2018. After that, the center must be self-supporting.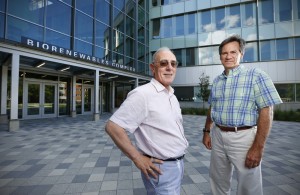 Basil Nikolau, the center's deputy director and Iowa State's Frances M. Craig Professor of Biochemistry, Biophysics and Molecular Biology, said the center was built on a vision of biologists and biochemists working with engineers to solve common problems. The joint efforts have opened up new catalysts and technologies for the production of biorenewable chemicals.
That has helped CBiRC quickly establish a legacy of innovation in research, technology-led entrepreneurship and education, said Brent Shanks, the center's director and an Iowa State Anson Marston Distinguished Professor in Engineering.